I enjoy S scale model trains. In S scale 1 foot equals 3/16 inch. Models are 1/64 full size.
I began in 1963 with a Nimco wood-sheathed box car kit, including trucks, that I bought by mail for $4.15 (equivalent to about $41.50 in 2018) from Branch Line Trains in Memphis. I lettered it for the Delaware, Lackawanna & Western, the "Route of the Phoebe Snow."
I am partial to the Southern Pacific. I have lived most of my life in SP or Santa Fe territory. I had a brief infatuation many years ago with the Pennsylvania Railroad.
LAYOUT DESCRIPTION
The S scale San Antonio & Aransas Pass Railway (SA&AP or "SAP") has a simple track plan:
It is a 9 by 15 oval, with 105 feet of mainline track, No. 6 switches, 44 inch radius and 1-1/2% grades. The layout area is about 90 square feet. The layout is designed for running trains and not switching cars. Each siding is a staging track to hold a short train.
I use commercial benchwork from Modular Layout Systems to make it easy to move the layout or to reconfigure it. The track is Tomalco on homasote over Styrofoam, inspired by Cincinnati Eastern Logger John Burchnall's clinic at the 1990 Pittsburgh convention of the National Model Railroad Association.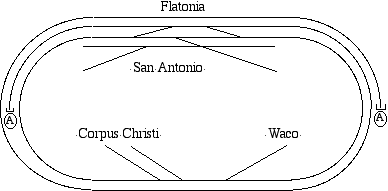 Formerly I used conventional two-cab control with toggle switches to assign throttles to one of four blocks. Today I use digital command control (DCC). DCC has made operation far more enjoyable, because it allows me to concentrate on running trains instead of flipping toggles. Switches are American Models Code 100 kits, except for a couple of Code 125 Eshleman switches. All are "DCC friendly" and are powered by Switchmaster motors operated by pushbuttons. LEDs on one of two control panels show point position.
Graham Henry has helped regularly over the past ten years with just about everything. Keith White did the rock castings. Lee Johnson helped with scenery. Thanks Graham, Keith and Lee!
OPERATIONS
Trains normally leave San Antonio and make their way to the "high line" before reaching either Corpus Christi or Waco. Return traffic follows the same pattern. Sometimes trains appear to never get anywhere, as if running in circles.
It is possible to see almost anything running on these rails. As a long-time S scaler I have tended to buy at least one of everything, and I like to run it all - except that the layout isn't big enough. The prototype SA&AP and my layout really have only two things in common: (1) the name and (2) my preference for small locomotives.