1919
| | | |
| --- | --- | --- |
| Model: | "Six-39" | "Six-55" |
| Cylinders: | 6 | 6 |
| Horsepower SAE: | 23.44 | 29.4 |
| Wheelbase: | 117 | 127 |
Paige-Detroit did not announce new Paige models for 1919. The entire auto industry faced the multiple tasks of fulfilling government contracts, dealing with shortages of materials, confronting rising prices, and the challenge of simply getting their products to customers by way of an overburdened railroad network. There was no time to make engineering changes or to create new designs.
Indeed by October of 1918 Paige was fast approaching a 100 per cent war basis. It forecasted that within a few weeks its supply of passenger car materials will have been used and that all its resources would be devoted exclusively to Government service. A month later, just as the armistice brought peace to Europe, Paige-Detroit announced it would be very soon discontinue the manufacture of passenger cars. Prospective buyers were advised to seek out the few remaining sedans and coupés that Paige would manufacture.
The end of fighting in Europe meant that auto manufacturers, including Paige, could wrap up war production and concentrate once again on passenger cars and commercial vehicles. In January, 1919, Nash Motors proclaimed "Nash passsenger cars and trucks are becoming increasingly available with the passing days. . ." The Velie Motor Vehicle Co. announced its ". . . plant is now operating upon the normal peace basis again and is preparing for a huge volume of business during the new year." By the end of January Paige itself was building an average of 50 cars per day.
Paige exhibited a limited number of models at the 1919 auto shows, all at higher prices, including only one closed car, the Six-55 coupé. In the months that followed, other closed models were added.
"Six-39" Series

Cabriolet, three-passenger, $1,885
Roadster, two-/three-passenger, Dartmoor, $1,555
Touring car, five-passenger, Linwood, $1,555

"Six-55" Series

Coupé, four-passenger, $2,950
Sedan, seven-passenger, $2,950
Limousine, seven-passenger, $3,330
Touring car, seven-passenger, Essex, $2,060
Town Car, seven-passenger, $3,330
Sport type, four-passenger, Larchmont, $2,165
In its coverage of the Chicago Auto Show Motor Age magazine reported: "The Paige cars offered this year are better looking, a little richer in outward accessories and considerably refined in mechanical features, such as lubrication, power and better quality of material." The mechanical improvements included better-designed pistons and improved piston rings. The rear windows in the tops were plate glass in metal frames and not the five small isinglass windows which formerly distinguished Paige cars.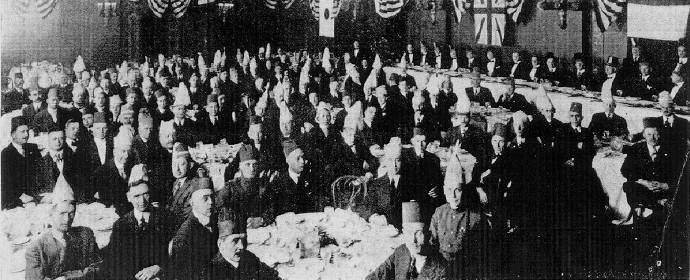 Festive scene at the Paige dealers' banquet, Jan. 30, 1919, during the Chicago Auto Show.
Motor Age magazine, Feb. 6, 1919
The transition to a peace-time economy did not go smoothly. Rising prices and labor troubles in the coal and steel industries kept Paige production in June to 75 cars per day. During the same month Ford, on the other hand, produced 3,000 per day, equal to 45% of total Michigan and Ohio car production.
| | | | |
| --- | --- | --- | --- |
| | | | |
| 1919 Six-39 Dartmoor | 1919 Six-39 Linwood | 1919 Six-55 Larchmont | 1919 Six-55 Essex |
| | | | |
| 1919 Six-39 Cabriolet | 1919 Six-55 Coupe | 1919 Six-55 Limousine | 1919 Six-55 Sedan |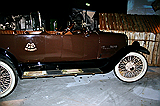 1919 Paige Touring Car, Visitor Center, Geiranger, Norway (Iain G. Wood photo)
The May 8, 1919, issue of Motor Age magazine listed the Paige truck line for the first time in its monthly listing of truck specifications:
Model
50
51
Tons Capacity
2
3-1/2
Tires Front
36 x 4
36 x 7
Tires Rear
36 x 5 dual
Engine
Continental
Cylinders - Bore x Stroke
4 - 4-1/8 x 5-1/4
4 - 4-1/2 x 5-1/2
Ignition
Bosch
Eisemann
Governor
Pierce
Carburetor
Stromberg
Clutch & Gearset
Brown-Lipe
Final Drive
worm
Axle
Timken
Steering gear
Jacox
Elsewhere:
Tests of four-wheel hydraulic brakes on a Stutz touring car, traveling 35 m.p.h., stop it within 31 feet.
Six cars compete in the first San Francisco-to-Santa Monica Open Road Race.
A three-color traffic light is installed in Detroit.
Hudson introduces the low-priced Essex, a trend Paige-Detroit follows two years later with its Jewett line of models.