1925
| | | |
| --- | --- | --- |
| Nameplate: | Paige | Jewett |
| Model: | 6-70 | 23-25 |
| Cylinders: | 6 | 6 |
| Horsepower SAE: | 73 | 50 |
| Wheelbase: | 131 | 112 |
By 1925 the crankshaft of the Paige engine was balanced both statically and dynamically. Paige had devised a silent timing chain with automatic tension adjustment, lubricated by a lead from the force-fed oil system. Paige installed a flexible coupling on the generator shaft for quietness at low idling speeds. Exhaust valves were now made of silicone. Both the lubrication system and cooling system were improved. Standard equipment included 33 x 6.75 full balloon tires, while four-wheel Lockheed hydraulic brakes were an option.
Paige

Phaeton (5- or 7-passenger), $2165
Brougham (5-passenger), $2395
Sedan (7-passenger), $2840
Suburban Limousine (7-passenger), $2965
The five-passenger brougham came in cobalt blue with a straw color stripe at the belt line and a black upper body. It had landau side arms and an enameled metal trunk. As sedans went in those days, this was a fine and stylish example. The deluxe five-passenger phaeton was finished in moleskin brown with a carmine stripe; the regular 7-passenger phaeton in Bolling green with an ivory stripe. All these models had black running gear. Steel disc wheels were optional, but most illustrations showed Paige cars equipped with them. A spare balloon tire and rim at the rear were standard.
Jewett sales literature for 1925 indicated that over 100,000 Jewett models had been purchased to date. These new models featured "softer curves, easier angles, fuller lines," replacing the previous straight sides and sharp corners. The changes were recognizable, but not radical. Steel wheels and hydraulic four-wheel brakes were available at extra cost.
At the beginning of the model year there were four standard and three De Luxe Jewett models. The roadster offered in the previous year was dropped and replaced with a closed coupe. During the summer a coach was added. The coach resembled the brougham but without the landau irons. Ads claimed that the wide doors of the new coach allowed access to the rear seat without disturbing passengers in front.
Jewett

Touring car (5-passenger), Standard $1,175, De Luxe $1,290
Sedan (5-passenger), Standard $1,570, De Luxe $1,745
Brougham (5-passenger), Standard $1,385, De Luxe $1,525
Coupe (3-passenger), $1,335
Coach (5-passenger), $1,260
Balloon tires became standard on all of them. The deluxe brougham had carriage irons and leathered upper back panels. A spotlight mounted in the center of the windshield was standard on all the deluxe models at the time. Three of the standard models came in autumn green satin finish, but the brougham remained black enamel. The deluxe touring came in lotus blue, the sedan in lotus and Hathor blue, and the brougham in the autumn green satin finish.
By the end of 1925 a total of 39,114 Paige and Jewett cars had been sold during the year, 13.2% higher than 1924. Prosperity continued at the Paige-Detroit Motor Car Company.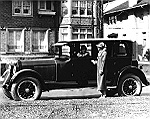 1925 6-70 Brougham (AACA Library photo)
| | | | | |
| --- | --- | --- | --- | --- |
| | | | | |
| NOW - Permanent Perfected Performance, Saturday Evening Post, January 17, 1925 | | 12 New Bodies, Saturday Evening Post, March 1, 1925 | | Jewett Announces the Newest, Smartest Coach - $1260, Hearst's International Cosmopolitan, June, 1925 |
Elsewhere in 1925:
Front and rear bumpers become standard equipment.
The first interstate highway, the Lincoln Highway, opens between New York and San Francisco.
Walter Chrysler adds the Maxwell-Chalmers Motor Corp. to his year-old Chrysler Motor Corporation and changes the company's name to Chrysler Corporation.